MTV Cribs Is Returning - Here's 9 Shows That Should Make a Comeback ASAP
So according to Deadline; MTV U.K. picked up Cribs to reboot. U.K. audiences will now get a peek inside the homes of some of their fav Brits. Kelly Bradshaw, the MTV U.K. VP released a statement saying, "With its firmly cemented status as a cult hit program, Cribs remains one of the most-loved shows in MTV history. The new series is set to be warm and funny, giving MTV audiences a sneak peak into how their favorite stars live."
Check out our list of 9 shows that I feel need a reboot or a RE-reboot!
#1 Flavor Of Love
WE NEED THIS BACK FOR THE CULTURE! Imagine the names they would come up with now. All we're saying though is nothing could top the OG's like New York, Pumkin, Hottie (WHEN SHE COOKED THE CHICKEN BRRRUUHHHH) and Deelishis.
REBOOT? Nope. It had 3 seasons total from 2006-2009
#2 Made
Contestants would be made into "a cheerleader", a "rocker", "homecoming king" etc etc. It was like the high school version of the modern day Queer Eye.
REBOOT? Not exactly. So WHO KNEW this show ran all the way until 2014?!?! It had 15 total seasons with 280 episodes from 2002-2014.
#3Room Raiders
This show was WILD. Basically a single girl or guy would "raid" the rooms of three other potential dates and at the end of the episode would choose the person based on either good or bad stuff they found when they went through their room. If you say you didn't watch this a laugh when they ALWAYS found the porn in the guys drawer (they covered it up with a big XXX) they you LYIN'!
REBOOT? Nah. It had 2 seasons from 2004-2006.
#4 NEXT
It's basically the ghetto Bachelor. The original "Thank U, Next". Remember when they would "Next" them before they could even step off the bus??? LOL savage!
REBOOT? No. BUT—this is another show that ran longer than we thought…It had 6 seasons. 288 episodes. From 2005-2008. REGARDLESS, this was hilarioussss and the vault that its buried in needs to be dusted off and revived!
#5 PUNK'D
Ashton was THE man for this show. He pranked or "Punk'd" all of our favs celebs
REBOOT?: They TRIED to do a reboot—TWICE, in 2012 AND 2015 but it wasn't the same!
#6 Making The Band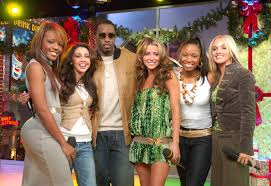 The show that gave us the BOPS from groups like Danity Kane and Day26. WE NEED TO BRING BACK GROUPS Y'ALL! Somebody PLEASE call Diddy. Who remembers when Diddy made band members walk miles for a cheese cake?? lmao.
REBOOT? Nada. But it did have total of 12 seasons combine for each new iteration of the series (1-4), with 142 episodes from 2001-2009
#8 Fear Factor
This show had you on the EDGE of your seat and literally wanting to crawl out of your own skin as contestant attempted everything from eating scorpions, holding their breath under water and scaling the sides of buildings. The winner at the end took home 50 G's!
REBOOT? Technically, yes. Ok, so this is the only show on our list that actually had a strong reboot. And as much as we love Luda, we really do. Nothing will top the original. Nothing.
#9 Parental Control
IMAGINE if this show was still around. Parents signed up for this show if they were unhappy with their kid's current BF or GF. The parents would interview other potential partners who would them try to gain the affections of their son or daughter. THEN the son or daughter went on a date with the two selections that each parent chose. At the end the child then has to decide whether to keep their current relationship, stay single, or chose one of their parents picks.
REBOOT? Nuh-uh. It ran from 2006-2010 and we are crossing our fingers for a comeback!
#10 My Super Sweet 16
NOW—ima let you finish but Teyana Taylor's skateboard sixteen was THEE BEST episode PERIODT!
REBOOT? OKAYYY so…this one technically never went away either. BUT its on Hulu and we ATLEAST need it to make the jump to Netflix bc mama ain't got timeeeee to keep making all these emails for these different streaming services okay!!!
How do you feel about my list? What show would you want to see rebooted? Hit me @dj4eign

DJ 4eign
Want to know more about DJ 4eign? Get his official bio, social pages and articles on JAM'N 94.5!
Read more