Why Danny Amendola broke up w/ Olivia Culpo
Why Danny Amendola and Olivia Culpo reportedly broke up
Danny Amendola looks like he's going through a lot of changes this offseason.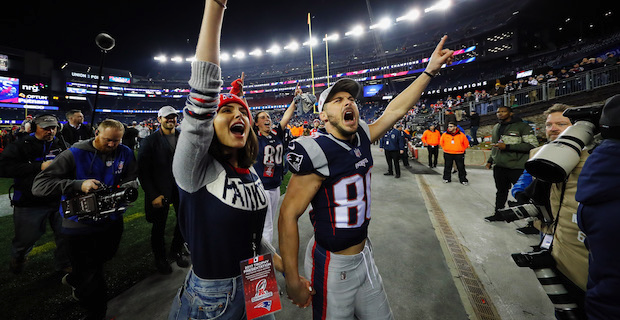 (Photo: Getty)
Danny Amendola is really reshuffling his life this offseason.
Along with inking a deal with the Miami Dolphins, ending his five-year tenure with the New England Patriots, the wide out and his longtime girlfriend, former Miss Universe winner Olivia Culpo, have reportedly called it quits after seeing one another for around two years.
According to Us Magazine, part of the reason for the split had to do to with distance, which makes sense given that Amendola is about to call South Beach home for the next two years, while the Rhode Island native in Culpo still resides in the New England area. That's not even mentioning the amount of travel each put in because of their professions.
"He got signed to the Miami Dolphins and Olivia wasn't going to move there," a source told Us Magazine.
The magazine also added that Amendola was not happy with Culpo's photo shoot for the Sports Illustrated Swimsuit Issue.
A source also told E! News that, "Danny couldn't handle Olivia's demanding lifestyle and wasn't pleased with certain choices she was making."
All of this came about after Barstool Sports' Chicks in The Office came across that Amendola had recently unfollowed Culpo on social media and deleted all of their pictures together off his page. The couple was recently together on a vacation in the Bahamas in early March, but things have apparently spiraled downward since then.
Amendola and Culpo did share a sweet moment during the Patriots' run to Super Bowl LII. After the AFC Championship where Amendola scored the game-winning touchdown, the wide out met his then girlfriend down on the field as cameras caught her rushing into his arms and embracing him after stamping their ticket to Minnesota.
Make sure you stay 100 percent caught up with the Patriots! Take a second to sign up for our FREE Patriots newsletter!
In that comeback win against the Jaguars, Amendola was able to bring down seven of his nine targets for 84 yards and two scores. It's that type of production the Patriots will have to work at filling particularly in clutch situations like third down and in the red zone.
Amendola found his way to Foxboro back in 2013 when the Patriots signed him following a stint with the St. Louis Rams. In that time he turned himself into a serious weapon in the NFL finishing his Patriots career catching 230 passes for 2,383 yards and 12 touchdowns.
Now, a single Amendola will try to put up those similar numbers in a new uniform in 2018 and beyond.

Maverik
Want to know more about Maverik? Get his official bio, social pages and articles on JAM'N 94.5!
Read more